Green tea …… Tea ceremony procedures of an offering to the Buddha, rakuchawan (hand-molded earthenware tea cups) and koma tea ceremony room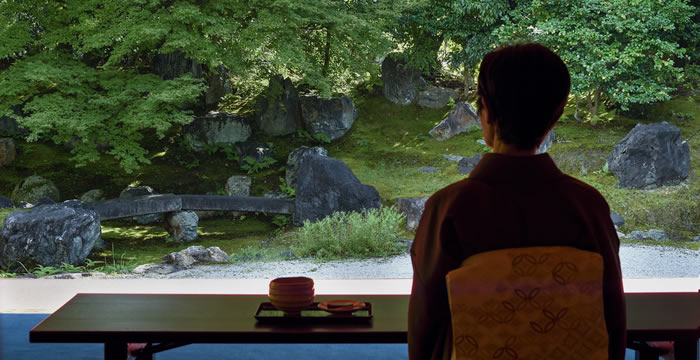 - Tea ceremony procedures of an offering to the Buddha related to Hideyoshi
-Hours: 10:30AM-4:00PM; 2,000 yen per person (including commemorative folding fan); Time required: 20 minutes
For groups of 10 or more, please make a reservation in advance by phone.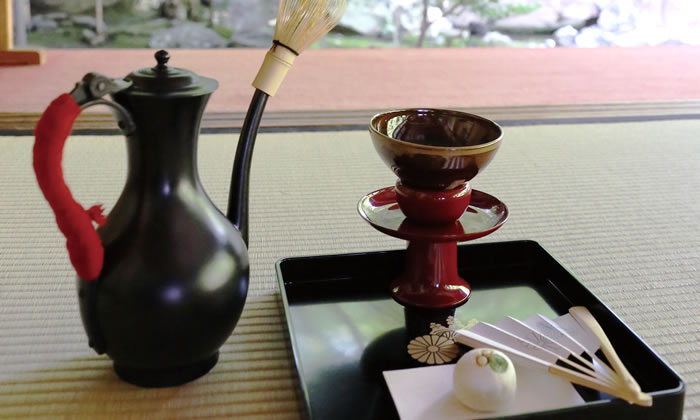 This style of tea ceremony, devised by the samurai Oribe Furuta under orders from Hideyoshi, expresses the readiness of a warrior. Used as a method of offering tea to the Buddha, it is the most refined way of serving green tea. Guests will be given a commemorative folding fan to take with them. Those who wish can view the "koma tea ceremony room" at Entoku-in Temple.
Please experience the hospitality of 400 years ago at the temple associated with Hideyoshi and the final resting place of Kitano-mandokoro Nene, "Entoku-in Temple."
- Green tea served in rakuchawan, hand-molded earthenware tea cups(made and served while viewing the north garden designated for its scenic beauty)
-Hours: Reception from 10:30AM-4:00PM; 800 yen per cup
We apologize, but visitors may have to wait when other groups are present or when visiting in groups of 15 or more members. If you are in a hurry, please phone in advance.
*Unlike tea ceremony procedure of an offering to the Buddha, participants will not be able to view the "koma tea ceremony room" or receive a commemorative folding fan.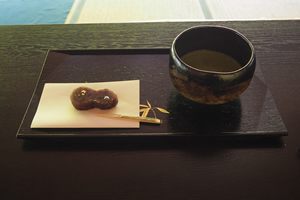 If you wish, you can also experience utilizing the chasen to stir the tea yourself. If you wish to do so, please mention this when making your reservation by phone. If you do not have a reservation, please inform the staff when you arrive at the tea ceremony seats at the Kita-shoin.
Rakuchawan
Please enjoy drinking the delicious tea with rakuchawan tea cups, which are hand made by the head priest. Rakuchawan are the most suitable tea cups to drink this tea from.
-"Koma tea ceremony room" Reservation required
-Reservation deadline: 4:00PM the previous day; Hours: Reception from10:30AM-4:00PM 1,500 yen per person; Reservation required
You can drink tea in the "koma tea ceremony room" located in the Kita-shoin of Entoku-in Temple. You can experience the atmosphere of a Zen tea ceremony room from about 300 years ago. The view of the garden scenery from the windows is also lovely.