●About Kodaiji Temple
Jubuzan Kodaiji (Rinzai School Kenninji Sect)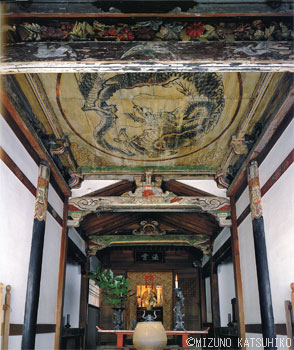 Kodai-ji Temple is located north east of Yasaka Hokanji Temple at the foot of Higashiyama Ryozen Mountains in Kyoto. It is officially called Kodaiji-jushozenji Temple. The temple was established in 1606 by Kita-no-Mandokoro (1548-1624) in memory of her late husband Toyotomi Hideyoshi (1536-1598). Kita-no-Mandokoro was also known as Nene. She later became a priestess and assumed the name of Kodaiin Kogetsuni. In July 1624, Sanko Osho from Kenninji Temple was welcomed as the principal monk and the temple was then named Kodai-ji. Tokugawa Ieyasu (1542-1616) (the first Tokugawa shogun) financed the construction of the temple, resulting in its magnificent appearance.
Currently Kaisando (Founder's Hall), Otama-ya (Sanctuary), Kasatei (Teahouse), Shiguretei (Teahouse), Omotetmon (Gate to Sanctuary) and Kangetsudai (Moon Viewing Pavilion) are designated as important cultural properties of Japan. Toyotomi Hideyoshi and Kita-no-Mandokoro are enshrined in "Otama-ya" and their graves lie under the state of Kita-no-Mandokoro. Shumidan (dais for a Buddhist image) and Zushi (small shrine) are decorated with splendid makie (Japanese lacquer with gilded patterns) which is known as "Kodai-ji Makie", typical of the Momoyama period. (late 16th century) The pond garden around Kaisando is said to have been designed by the great garden designer, Kobori Enshu.
Kita-no-Mandokoro received the rank of Juichii (the highest rank a woman could receive from the emperor) in 1588 and the title of Kodaiin from Emperor Goyozei in 1603. Kita-no-Mandokoro died on September 6th, 1624 at the age of 76.

The Temple Garden
This garden is said to have been designed by the landscape garden designer Kobori Enshu (1579-1647).
The garden is designated by the Japanese Government as a historical site and a place of scenic beauty.
Houjyo (Main Building)
This building's interior was originally painted with lacquer and was coverd with exquisite gold decorations. The current building was rebuilt 1912 after several fires.
During the spring and autumn Kodai-ji is host to modern art exhibits.
These are placed in the stone garden in front of Houjyo and at night are creatively lit.
Otama-ya (Sanctuary) = Important Cultural Property
This is the special memorial hall enshrining Toyotomi Hideyoshi and Kita-no-Mandokoro. The small shrine and the dais upon which it stands are decorated with special lacquer work incorporating designs in gold.
Hideyoshi's Jinbaori (a coat worn over armour) = Important Cultural Property
Used by Hideyoshi it is mainly woven with gold and silver thread. It is said to have been made from a Persian rug.
---
Kodai-ji Zen Temple
526 Shimogawara-cho, Higashiyama-ku,
Kyoto,605-0825 Japan
Tel.(075)561-9966
URL http://www.kodaiji.com/
---